DMC Custom Creations are designers and builders of custom Decks,  Fences, Sheds, and other structures for Sarnia outdoor living. We are amongst the finest Sarnia fence and deck builders in the area. DMC takes pride in delivering quality and satisfaction to each and every customer.
It all starts with a phone call and a free estimate.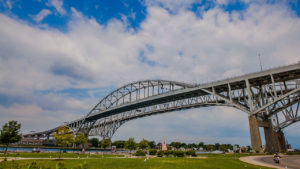 Sarnia Outdoor Living
Unlike most indoor home improvements, a deck can increase both the value and the appeal of your home. If you are planning to sell your house in the future, a well maintained deck is a huge selling point! A potential buyer will remember your house over other houses that did not have a nice deck in the back. A deck can make your house a happening place. There is something about sitting out on a deck on a warm summer day that makes people feel especially happy. Building a deck onto your home can ensure that you help create those memories for you, your family and friends for years to come.